Customers in Europe and the United Kingdom, please click here.
Attention Existing Customers:
Welcome to our new shop! Your account has not been migrated from the old system. If you wish to purchase something, you will need to create a new account or checkout as a guest. Please note that guest checkout is not available for digital products or subscriptions.
Linux Magazine 2018 Digital Archive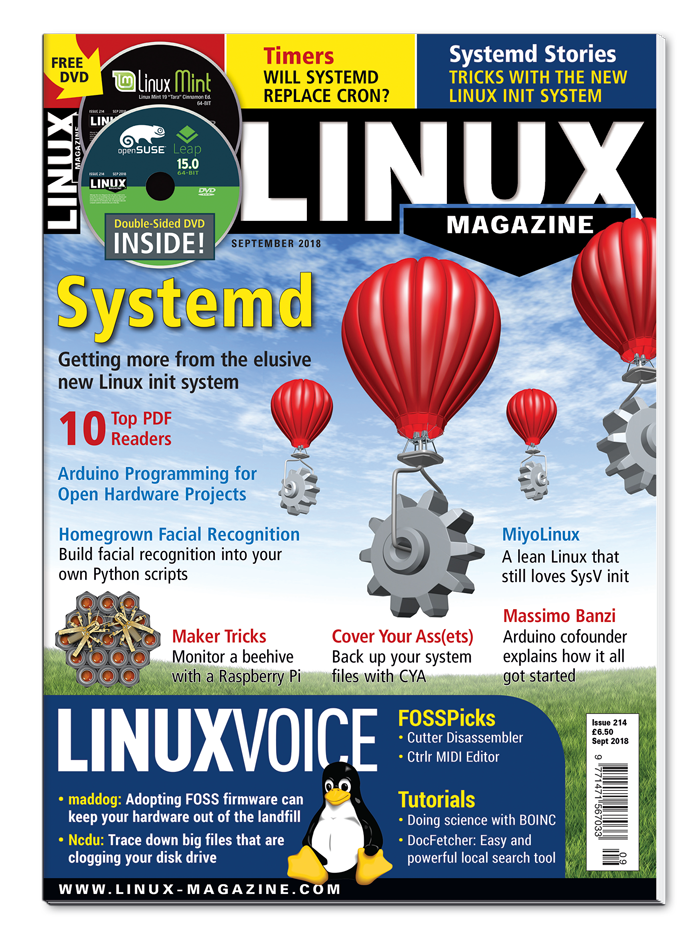 Linux Magazine 2018 Digital Archive
This Digital Archive includes all 12 Linux Magazine issues published in 2018.

You get PDF versions of all the issues (#206 to #217) – perfect for research, finding tips and tricks, or reading a specific article one more time.
The Linux Magazine 2018 Digital Archive includes issue #206 through #217:
Linux Magazine #206: Safer Boot
Linux Magazine #207: Inside a Compiler
Linux Magazine #208: Terminal Tuning: Tips and tools for a better Bash shell
Linux Magazine #209: Is Firefox Back? We compare Mozilla's reborn browser with recent versions of Chrome
Linux Magazine #210: Free Boot! Libreboot and the liberation of firmware
Linux Magazine #211: Mycroft – Can an open source personal assistant compete with Alexa?
Linux Magazine #212: Internet of Things – Tools for home automation
Linux Magazine #213: Mapping Tools – Create and edit digital maps with QGIS and QMapShack
Linux Magazine #214: Systemd – Getting more from the elusive new Linux init system
Linux Magazine #215: Privacy – Stop snoopers and protect your identity
Linux Magazine #216: .NET Core – Running Microsoft's flagship framework on Linux
Linux Magazine #217: Innovative Distros