Customers in Europe and the United Kingdom, please click here.
Attention Existing Customers:
Welcome to our new shop! Your account has not been migrated from the old system. If you wish to purchase something, you will need to create a new account or checkout as a guest. Please note that guest checkout is not available for digital products or subscriptions.
SOLD OUT: ADMIN Archive DVD - Issues 0-64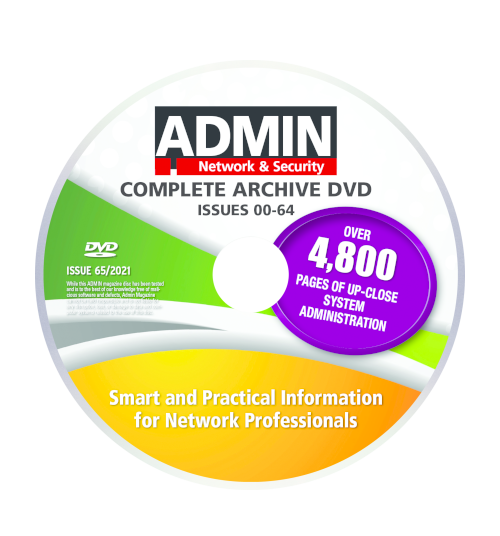 SOLD OUT: ADMIN Archive DVD - Issues 0-64
The ADMIN Network & Security Archive DVD is a comprehensive, searchable collection of ALL previous articles from ADMIN magazine – 65 issues, including the special pilot edition – more than 4,800 pages of inspired IT.

You'll find practical, hands-on tutorials on the tools and technologies of today's networks.
4,800+ pages of inspired IT!
The ADMIN Archive DVD brings you practical information on the tools you need for the systems you manage.
ADMIN patrols the realm of the modern enterprise, with hands-on articles from the experts on DevOps, ransomware, edge computing, automation, orchestration, lifecycle management, and other subjects from the front lines of the IT profession.
Discover the latest tools and best practices you'll need to keep your systems alive and ready.