Customers outside of the USA and Canada, please
click here
.
Attention Existing Customers:
Welcome to our new shop! Your account has not been migrated from the old system. If you wish to purchase something, you will need to create a new account or checkout as a guest. Please note that guest checkout is not available for digital products or subscriptions.
Linux Magazine #254 - Digital Issue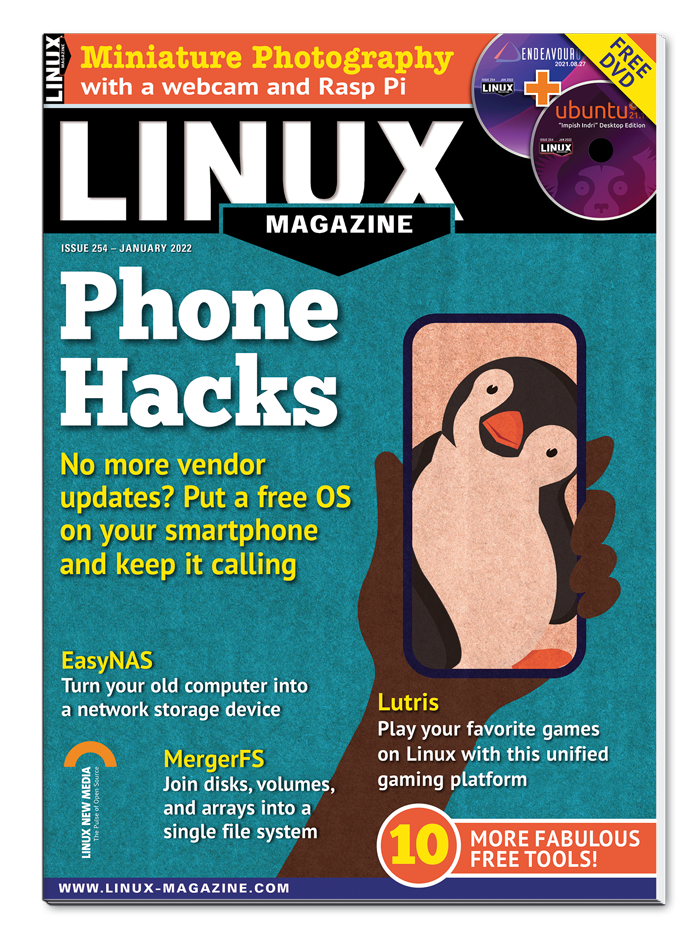 Linux Magazine #254 - Digital Issue
Eventually phone manufactures stop supporting old hardware. If you're not ready to abandon that hardware yourself, you might find a better alternative with LineageOS – a free Android-based system that supports more than 300 phones. We also explore PostmarketOS, a community-based Linux distribution that runs on several Android devices.

DVD contents are not available with the digital edition.

Digital issues will be available once payment is confirmed.
IN THIS ISSUE: 
Kernel News
Wonky Typecasting
Linux on a smartphone with PostmarketOS
The mobile Linux distribution PostmarketOS is a fork of Alpine Linux that supports around a dozen user interfaces.
Replacing Android with LineageOS
Breathe new life into your old smartphone: The TWRP recovery image and the free Android offshoot LineageOS let you install the latest security updates every week.
Distro Walk – EndeavourOS
As an outgrowth of the now-defunct Antergos community, EndeavorOS offers a customizable Arch Linux derivative that's easy to install with the added benefit of community support.
EasyNAS
EasyNAS lets you set up network-attached storage in next to no time – even on old hardware.
Command Line – plocate
As the latest successor to locate, plocate produces some of the quickest search results possible on any system.
Trinity Desktop
Trinity Desktop Environment's latest release may seem like a trip back in time, but it does offer freedom of choice and a functional desktop for modern computing.
Charly's Column – ASN
When digging into BGP routing information, Charly avoids the highway through parameter hell thanks to the ASN tool. In addition to a system's AS number, ASN delivers other information, such as its peering partners.
MergerFS
This simple tool lets you combine disks, volumes, and arrays into a single file system.
Programming Snapshot – Go and Fyne
If you want to keep only the good photos from your digital collection, you have to find and delete the fails. Mike Schilli writes a graphical application to help you cull your photo library.
Temperature Testing a NAS
Use the stress, lm-sensors, and hddtemp utilities to sort out temperature and reliability issues with a home-based NAS box.
QJournalctl
This convenient GUI tool will help you track down log data in the systemd journal.
Deluxe Web Radio
A self-designed housing and matching software transform a simple Raspberry Pi web radio into an elegant living room console.
Miniature Photography
A web camera, Raspberry Pi, and simple software facilitate miniature tabletop photography.
Doghouse – FreedomBox
FreedomBox offers a private, secure personal server that is now available on more platforms.
Lutris
Gaming on Linux has traditionally involved a complex installation and configuration procedure. Lutris lets you enjoy games from different worlds quickly in a unified interface.
FreeFileSync
Many users still fail to back up important data. FreeFileSync automatically synchronizes specified folders to multiple storage media on demand.
FOSSPicks
This month Graham reviews Bela, Quickemu, GPU-Viewer, Maestral, Termux and AnLinux, Space Cadet, and more!
Tutorial – Shell Calendars
Command-line aficionados do not have to forgo calendars and appointment reminders.