Customers in Europe and the United Kingdom, please click here.
Attention Existing Customers:
Welcome to our new shop! Your account has not been migrated from the old system. If you wish to purchase something, you will need to create a new account or checkout as a guest. Please note that guest checkout is not available for digital products or subscriptions.
Linux Magazine #269 - Digital Issue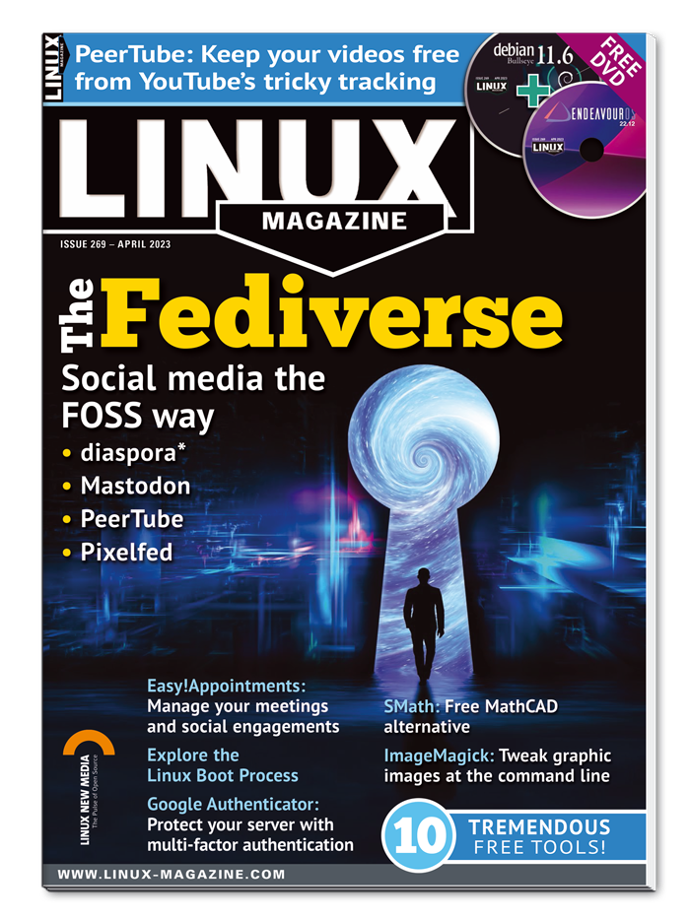 Linux Magazine #269 - Digital Issue
Social media tools connect the world, bringing us the latest news and commentary from politicians, movie stars, community leaders, and remote friends. But the tracking and data mining of the commercial social media platforms has left many users searching for a better option. This month we dive down into the alternative universe for social media users: the Fediverse.

DVD contents are not available with the digital edition.

Digital issues will be available once payment is confirmed.
IN THIS ISSUE:
FOSDEM 2023
After two years online, crowds of FLOSS supporters returned to Brussels in early February for FOSDEM 2023. Reminiscent of a class reunion, the FOSDEM keynote program was jam-packed with goodies.
Fediverse Introduction
Do you have to give up your privacy to enjoy access to social media? The makers of the Fediverse say no.
diaspora*
You don't need Facebook to keep up with your friends online; diaspora* offers a similar experience without the spying.
Mastodon
Get started with free microblogging, interact with others who share you interests, and even help expand the Fediverse with your own Mastodon instance.
PeerTube
PeerTube, the Fediverse's video platform, offers a decentralized, open source way to watch videos and live stream your own content.
Pixelfed
Pixelfed offers an alternative to centralized, algorithm-driven, commercial photo sharing services.
Distro Walk – EuroLinux
EuroLinux offers enterprise-class software with support from real engineers for a fair price. Bruce talks to the developers behind this RHEL-based distribution.
Programming Snapshot – Go Filters
When Mike Schilli is faced with the task of choosing a hiking tour from his collection of city trails, he turns to a DIY program trained to make useful suggestions.
Command Line – Mastodon CLI Client
If you are looking for a Twitter alternative, toot lets you interact with Mastodon from the command line.
Appointment Scheduler
If you have a business that requires customers to make an appointment in advance, letting them request the appointment via Easy!Appointments can free up your phone line.
Multifactor Authentication with SSH
The Google Authenticator PAM module allows you to use time-based Google Authenticator passwords with various Linux services, including SSH.
SMath
Present complex equations with intermediate steps, graphics, plots, and results in SMath.
Privacy Appliances
A Raspberry Pi with the right software filters out annoying ads and nasty trackers for end devices on your local network.
Doghouse – Expanding the Base
Linux can be a great new option for users from Windows XP owners to students with a range of interests.
Linux Boot
If you want to troubleshoot startup issues, you need a clear understanding of how Linux boots.
FOSSPicks
This month Graham looks at MuseScore 4, KZones, Whipper, YouPlot, DDSP-VST, FreedroidRPG 1.0 , Decky Loader, and more!
Tutorial – ImageMagick
The free ImageMagick graphics toolbox brings the feature set of a full-blown image processor to the command line.