Customers in Europe and the United Kingdom, please click here.
Attention Existing Customers:
Welcome to our new shop! Your account has not been migrated from the old system. If you wish to purchase something, you will need to create a new account or checkout as a guest. Please note that guest checkout is not available for digital products or subscriptions.
Linux Magazine #273 - Digital Issue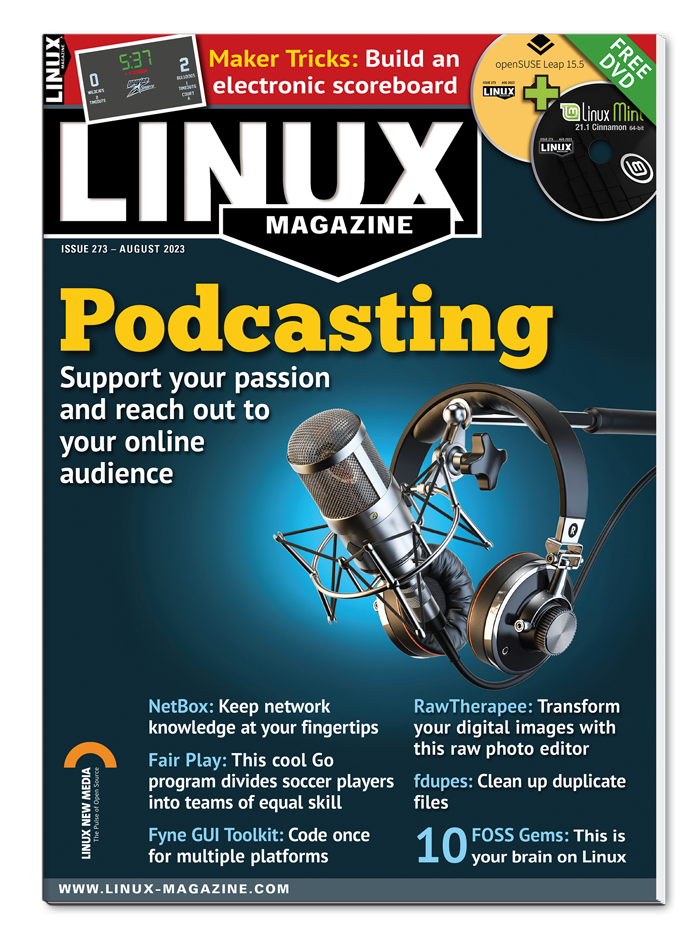 Linux Magazine #273 - Digital Issue
Issue #273: Podcasting

On the Internet, you don't have to wait for permission to speak to the world. Podcasting lets you connect with your audience no matter where they are. Whether you're in it to build community, raise awareness about your skills, or just have some fun, the tools of the Linux environment make it easy to take your first steps.

DVD contents are not available with the digital edition.
IN THIS ISSUE:

Kernel News
* Rust in Linux
* Compiler and Kernel Frenemies
Podcasts
If you use Linux, you already have most of the tools you need to get in the podcast game. Just plan carefully and take it a step at a time.
Audacity
This free, open source, easy-to-use, multi-track audio recording and editing tool is perfect for podcasts.
Sound Studio Workshop
Once you get your podcast operation up and running, you might decide you want a real mixer and some higher end software. We'll introduce you to Ardour and get you started with some basic audio hardware.
TUXEDO InfinityBook Pro 16 Gen7 MK1
The next-generation laptop from TUXEDO is faster and lighter than previous business models.
Distro Walk – Trisquel
Rúben Rodríguez discusses Trisquel, a free Linux distro that has been in continuous development for the past 16 years.
Command Line – most
The most terminal pager offers a feature-rich, better organized alternative to less.
GUI Apps with Fyne
The Fyne toolkit offers a simple way to build native apps that work across multiple platforms. We show you how to build a to-do list app to demonstrate Fyne's power.
NetBox
NetBox is a single source of information on your network where you can store all those important details that used to get lost.
Programming Snapshot – Go Algorithms
Instead of the coach determining the team lineup, an algorithm selects the players based on their strengths for Mike Schilli's amateur soccer team.
DIY Scoreboard
We look at a broadcast video system network that uses Python code to control a video router and check out another program that creates a scoreboard.
Doghouse – AI
Earlier technologies have persisted despite government regulations – so will AI.
fdupes
The command-line tool fdupes helps you find duplicate folders and directories.
FOSSPicks
This month Graham looks at wallabag, Read It Later, killport, F3D, Tenacity, Cataclysm: Dark Days Ahead, botany, and more!
Tutorial – RawTherapee Workshop
The current RawTherapee version finally adds selective image editing, among other long-desired features, to help it compete with king of the hill, darktable.