Customers in Europe and the United Kingdom, please click here.
Attention Existing Customers:
Welcome to our new shop! Your account has not been migrated from the old system. If you wish to purchase something, you will need to create a new account or checkout as a guest. Please note that guest checkout is not available for digital products or subscriptions.
ADMIN #64 - Digital Issue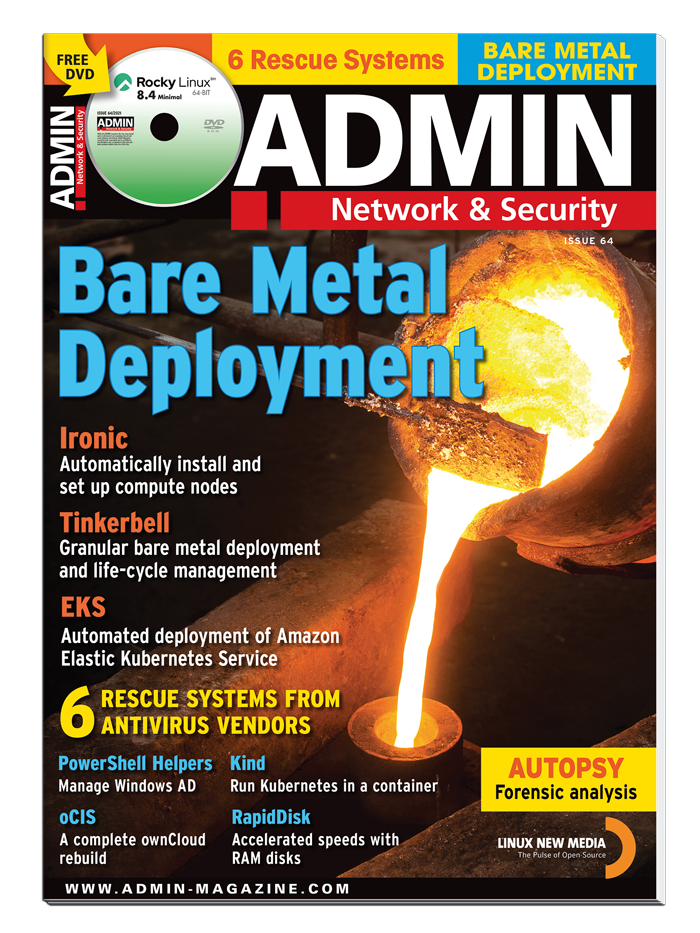 ADMIN #64 - Digital Issue
Setting up, automating, and managing bare metal deployments gets easier with the tools presented in this issue.

DVD contents are not available with the digital edition.
IN THIS ISSUE:
Ironic, Bifrost, and OSISM
OpenStack built-in resources help automate the installation and initial setup of compute nodes.
Kiwi NG
Configure, build, and deploy operating system images in a suitable format to facilitate and accelerate the installation of new systems.
Tinkerbell
Bare metal deployment and life-cycle management, with intervention allowed in every phase of the setup.
Emergency Rescue CDs
Antivirus vendors offer Linux-based rescue systems to repair and recover data from Windows computers.
ownCloud oCIS
A complete rebuild delivers the speedy and scalable ownCloud Infinite Scale file platform.
Vembu BDR Suite
Comprehensive software supports flexible configuration when backing up virtual production operations.
Automated EKS Cluster Build
Run a Kubernetes cluster in the cloud with ease by automated deployment with the AWS-managed Kubernetes service.
Kind Multinode K8s Distro
Create a full-blown Kubernetes cluster in a Docker container with just one command.
Autopsy Forensics Platform
Forensic admins can use the Autopsy digital forensics platform to perform an initial analysis of a failed system, looking for traces of a potential attack.
Securing Shell Scripts
The lax syntax verification of shell scripts and a lack of attention to detail in programming can create impressively dangerous security vulnerabilities.
Manage AD with PowerShell
PowerShell helpers let you automate searches in Active Directory and secure critical accounts.
Jenkins Self-Signed Certs
Convince Jenkins as a Docker container to recognize self-signed certificates, and verify that the instance is connecting to the correct online service and that your traffic is transmitted in an encrypted format.
RAM Drive Acceleration
Enable and share performant block devices across a network of compute nodes with the RapidDisk kernel RAM drive module.
Preload Trick
By using the LD_PRELOAD environment variable, you can improve performance without making changes to applications.
I/O Workloads
When disk drives underperform, you have a few tools on hand to diagnose the problem.
Performance Dojo
The implementation of terminal user interface libraries enables an impressive variety of in-terminal graphics.