Customers outside of the USA and Canada, please
click here
.
Attention Existing Customers:
Welcome to our new shop! Your account has not been migrated from the old system. If you wish to purchase something, you will need to create a new account or checkout as a guest. Please note that guest checkout is not available for digital products or subscriptions.
ADMIN #69 - Digital Issue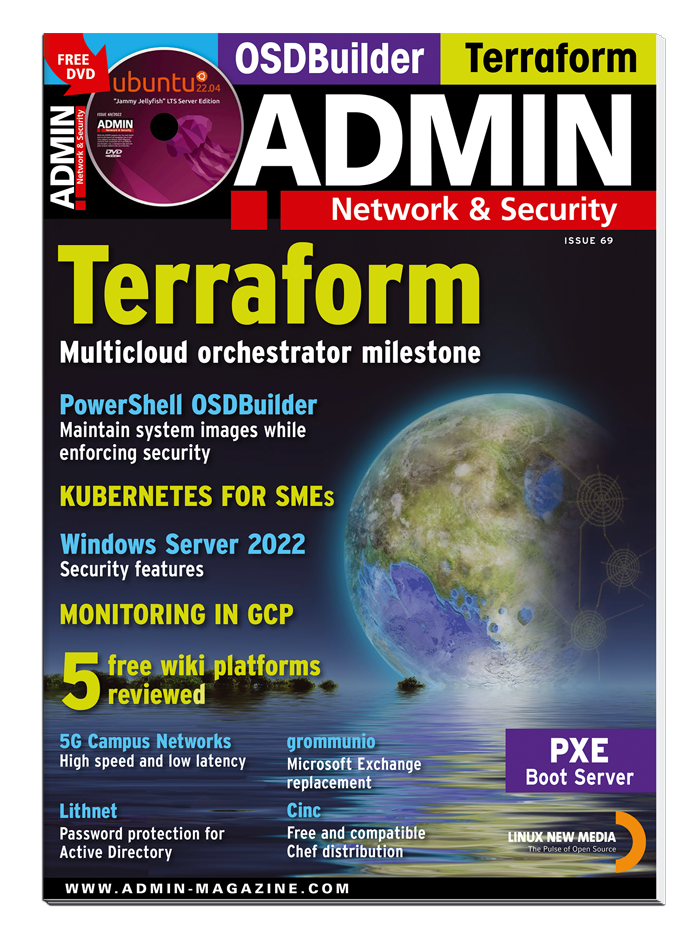 ADMIN #69 - Digital Issue
After nearly 10 years of work on Terraform, the HashiCorp team delivers the 1.0 version of the cloud automation tool.

DVD contents are not available with the digital edition.

Digital issues will be available once payment is confirmed.
IN THIS ISSUE:
Terraform 1.0
Version 1.0 delivers orchestration for multicloud environments and supports a huge set of target platforms.
Containers in SMEs
Discover the benefits of Kubernetes outside of large corporate environments.
Multipass
Launch and run Ubuntu virtual machines, use cloud-init to configure the VMs, and prototype cloud launches locally in minutes.
grommunio
An open source drop-in replacement for Microsoft Exchange.
PXE Server
Set up a PXE server for BIOS and UEFI clients and use it to boot Linux or Windows.
Rancher
This lightweight alternative to Red Hat's OpenShift gives admins a helping hand when entering the world of Kubernetes, but with major differences in architecture.
Wiki Platforms
Operate a wiki in your data center as a document and knowledge database for workgroups with one of these five open source applications.
Managing the Amazon Cloud
Use the AWS Management Console, command-line tools, SDKs, toolkits for integrated development environments, and IaC automation to manage the operation of more than 200 services in the AWS cloud.
Azure AD and Azure AD DS
Centralized directory services in the cloud are an alternative to often convoluted on-premises operation.
Keycloak
This robust and mature project provides a modern single sign-on authorization experience and centralized authentication of your apps.
Password Protection for AD
Lithnet Password Protection provides flexible rules beyond that possible with group policies alone and prevents the use of previously compromised passwords.
Windows Server 2022 Security
Harden server operations with Secured-core, DNS over HTTPs, TLS 1.3, and Azure Stack HCI.
Chef Snafu Begets Cinc
A free and completely compatible Chef distribution.
OSDBuilder
A module designed to help admins maintain their system images while enforcing security.
Tools to Monitor GCP
Monitor virtual machines, set up alerts, observe important metrics in dashboards, and define service-level objectives.
5G Campus Networks
The high speed and low latency of 5G is predicted to add value to industrial manufacturing, logistics, education, and data-heavy advanced applications.
Markdown and Pandoc
Transform your technical documentation into various formats and create sophisticated presentations along the way.