Customers outside of the USA and Canada, please
click here
.
Attention Existing Customers:
Welcome to our new shop! Your account has not been migrated from the old system. If you wish to purchase something, you will need to create a new account or checkout as a guest. Please note that guest checkout is not available for digital products or subscriptions.
ADMIN #70 - Digital Issue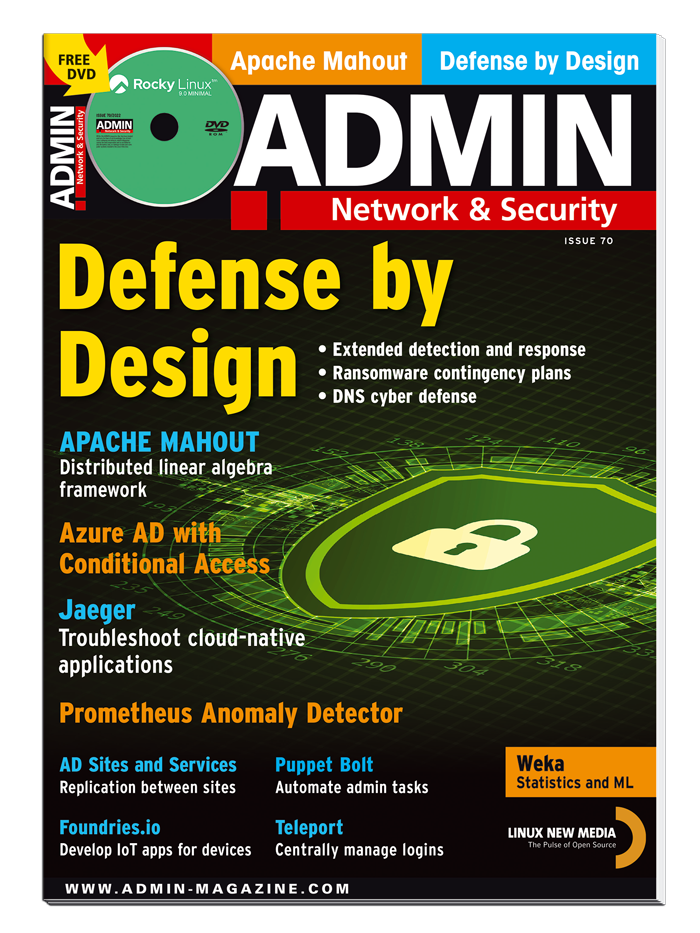 ADMIN #70 - Digital Issue
Nothing is so true in IT as "Prevention is better than the cure." We look at three ways to prepare for battle.

DVD contents are not available with the digital edition.

Digital issues will be available once payment is confirmed.
IN THIS ISSUE:
XDR
Extended detection and response integrates security functions across endpoint devices and networks. But is XDR the only integrated approach to cybersecurity challenges? We investigate the new technology.
Defense Against Ransomware
The possibility of a ransomware attack means it is essential to prepare for cyberattacks by putting defense mechanisms and contingency plans in place.
Security Through DNS
A holistic approach to designing network architecture and cybersecurity uses DNS for cyber defense to detect attacks at an early stage and fend them off before major damage takes place.
Apache Mahout
This distributed linear algebra framework delivers new tools and methods for performing data analysis, building machine learning data pipelines, and implementing machine learning models in production.
Foundries.io
A modular system for companies wanting to develop Internet of Things applications for devices.
PowerDNS and MariaDB
Combining the PowerDNS Authoritative server daemon with MariaDB's multiprimary Galera cluster allows a simple yet robust solution for your DNS needs.
Dogtag
This certificate manager integrates into the FreeIPA open source toolset to generate SSL/TLS certificates for intranet services and publishes them on the network.
Prometheus Anomaly Detector
The Prometheus time series database automatically detects, alerts, and forecasts anomalous behavior with the Fourier and Prophet models of the Prometheus Anomaly Detector.
Orchestration with Puppet Bolt
This free software automates administrative tasks to speed up the admin's daily work.
Azure Automation
A cloud-based service for handling automation tasks, managing updates for operating systems, and configuring Azure and non-Azure environments, with a focus on VM update management and restarting VMs.
Jaeger
The various components of cloud-native applications are always exchanging information, which makes troubleshooting difficult. The Jaeger tracing framework helps hunt down the perpetrators.
Teleport
Centrally manage logins against various protocols, including SSH, Kubernetes, and databases. Functions such as two-factor authentication are included in the scope of delivery, as is management of your own certificates.
Microsoft Cloud Zero Trust
Azure AD with Conditional Access makes use of components such as device management, risk assessment, and user roles to create a new mindset for zero trust.
AD Sites and Services
Active Directory domains distributed across multiple physical locations with IP subnetting and network configuration allows for replication and universal user logins.
macOS Shortcuts App
The automation tool of the iPhone and iPad moves to macOS Monterey 12 to help users make their everyday work more convenient.
Performance Health Check
Many HPC systems check the state of a node before running an application, but not very many check that the performance of the node is acceptable before running the job.
Weka
This open source tool applies a wide variety of analysis methods to data without the need for advanced programming skills and without having to change environments.