Customers outside of the USA and Canada, please
click here
.
Attention Existing Customers:
Welcome to our new shop! Your account has not been migrated from the old system. If you wish to purchase something, you will need to create a new account or checkout as a guest. Please note that guest checkout is not available for digital products or subscriptions.
ADMIN #74 - Digital Issue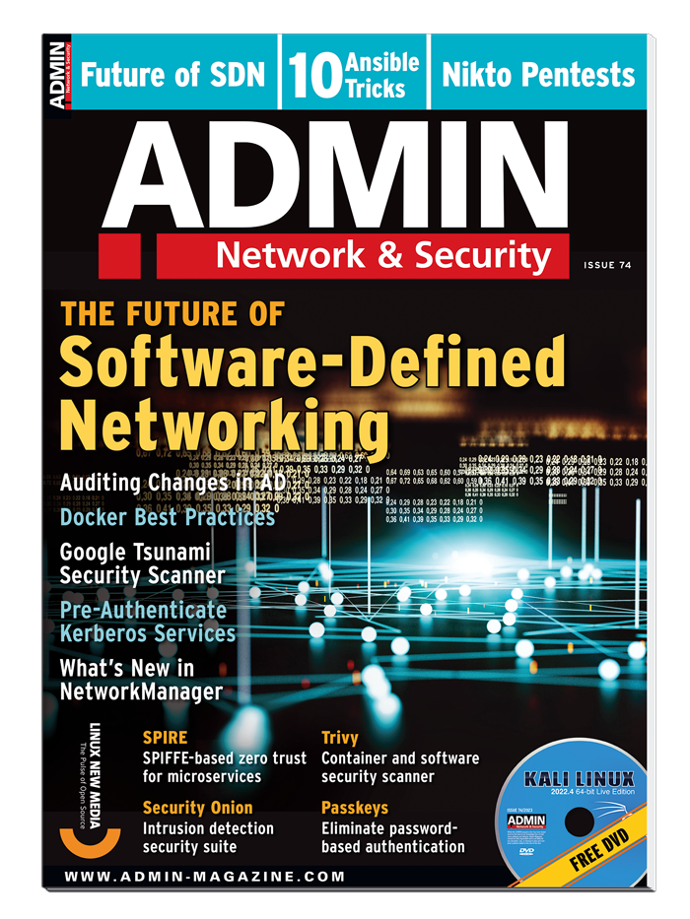 ADMIN #74 - Digital Issue
New projects out of the Open Networking Foundation provide a glimpse into the 5G network future, most likely software based and independent of proprietary hardware.

DVD contents are not available with the digital edition.

Digital issues will be available once payment is confirmed.
IN THIS ISSUE:
Software-Defined Networking
The history, technical underpinnings, and possible future standards of software-defined networking for 5G, IoT, and edge computing.
Acorn
Deploy applications in hypercomplex Kubernetes constructs in seconds.
antMan
Discover the advantages and disadvantages of turning a bare metal system into the core of an antMan cloud and whether the free Community Edition and its limitations will work in your case.
Nikto
Check your web servers for known vulnerabilities.
SPIFFE and SPIRE
Improve reliability and security by taking the responsibility for identity creation and management away from individual services and workloads.
Warewulf 4
A cluster management and provisioning platform installed with a compute node is not really an HPC cluster; you need to ensure precise time keeping and add a resource manager.
Graphical Docker Managers
Thanks to graphical management interfaces for Docker, even newcomers can set up container environments without extended training.
Portainer
A graphical management interface makes it easy to deploy containers, relieving you of huge amounts of routine work you would normally have to handle with Docker, Podman, or Kubernetes; however, the Portainer licensing structure leaves something to be desired.
Google Tsunami
Security scanners detect errors that typically signal danger and output alerts. We look into how you can get Google Tsunami up and running and even write the required plugins yourself.
Security Onion
Discover this comprehensive security suite for intrusion detection that involves surprisingly little work.
Trivy
This open source tool provides information for container and software security.
Ansible Tricks
Ansible is considered by far the most practical automation tool, but in many places, quirks make life with the tool unnecessarily complicated.
Auditing Changes in AD
Monitoring with built-in Windows tools can prevent the worst from happening after an attempted attack.
NetworkManager Changes
The current version of NetworkManager introduces some changes to this de facto standard for configuring the network stack on Linux. We look at the configuration changes you need to make to keep the network running smoothly.
Docker Best Practices
Whether you are developing containerized applications or running them, observing best practices helps to obtain optimal results.
MIT Kerberos Library
The Kerberos protocol makes the process of logging in to a service completely transparent to the user. The MIT Kerberos library lets you implement different security requirements for individual services.
Authenticate with Passkeys
Passwords are becoming a thing of the past. We look into the basic weaknesses of passwords, explain what passkeys are all about, and assess their practicality.
Perf Dojo
We inspect SD card performance in single-board computers to reveal this platform's weak spot.