Customers in Europe and the United Kingdom, please click here.
Attention Existing Customers:
Welcome to our new shop! Your account has not been migrated from the old system. If you wish to purchase something, you will need to create a new account or checkout as a guest. Please note that guest checkout is not available for digital products or subscriptions.
ADMIN #77 - Digital Issue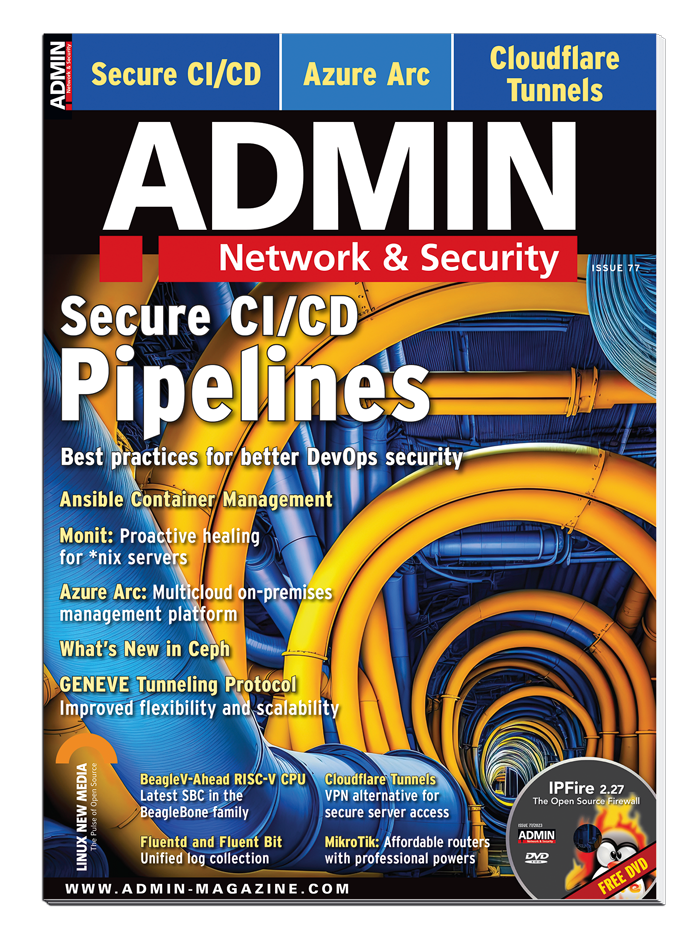 ADMIN #77 - Digital Issue
Secure CI/CD Pipelines

Best practices for better DevOps security. DevSecOps blends security into every step of the software development cycle.

DVD contents are not available with the digital version of the magazine.
IN THIS ISSUE:

Secure CI/CD Pipelines
We investigate best practices to secure CI/CD pipelines with DevSecOps.
GENEVE
Interconnect virtual networks with unique identities over a common physical network for more flexibility and scalability.
Azure Arc
This cloud service offers centralized management of services hosted in traditional data centers or arbitrary services hosted in other clouds.
Innovations in Ceph
Ceph and its core component RADOS have recently undergone a number of technical and organizational changes. We take a closer look at the benefits that the move to containers, the new setup, and other feature improvements offer.
Docker Desktop Local Cluster
The built-in single-node Kubernetes cluster included with Docker Desktop is a handy tool for testing your container.
Fluentd and Fluent Bit
Unify data collection and consumption to make sense of logging data in complex and distributed systems.
Zing Bash Script
Implement the zero-packet Ping utility, Zing, as a Bash shell script.
Cloudflare Tunnel
This powerful software provides secure and seamless access to servers and applications, making it a convenient alternative to VPN for any modern IT infrastructure.
Sustainable Kubernetes
Measure, predict, and optimize the carbon footprint of your containerized workloads.
Shuffle SOAR
The concept of security orchestration, automation, and response (SOAR) is increasingly important in IT security to counter ever-growing threats. Shuffle lets you to define automated workflows that boost infrastructure security.
Ansible Container Management
The Ansible automation tool not only controls virtual machines in cloud environments, it manages containerized setups simply and easily.
OpenNMS Horizon and Flows
Collect and visualize flows to discover which network devices are communicating with each other and the volume of data being transferred.
MikroTik Routers
Most routers provided by ISPs are built cheaply, come with low-quality firmware, and are insufficient even for basic tasks. MikroTik manufactures a line of affordable routers for those in need of professional network gear.
Monit
Drop this lightweight, performant, and seasoned solution into old running servers or bake it into new servers for full monitoring and proactive healing.
Performance Dojo
We test the performance of an open source RISC-V CPU.