Customers in Europe and the United Kingdom, please click here.
Attention Existing Customers:
Welcome to our new shop! Your account has not been migrated from the old system. If you wish to purchase something, you will need to create a new account or checkout as a guest. Please note that guest checkout is not available for digital products or subscriptions.
GIMP Handbook, Special Edition #28 - Digital Issue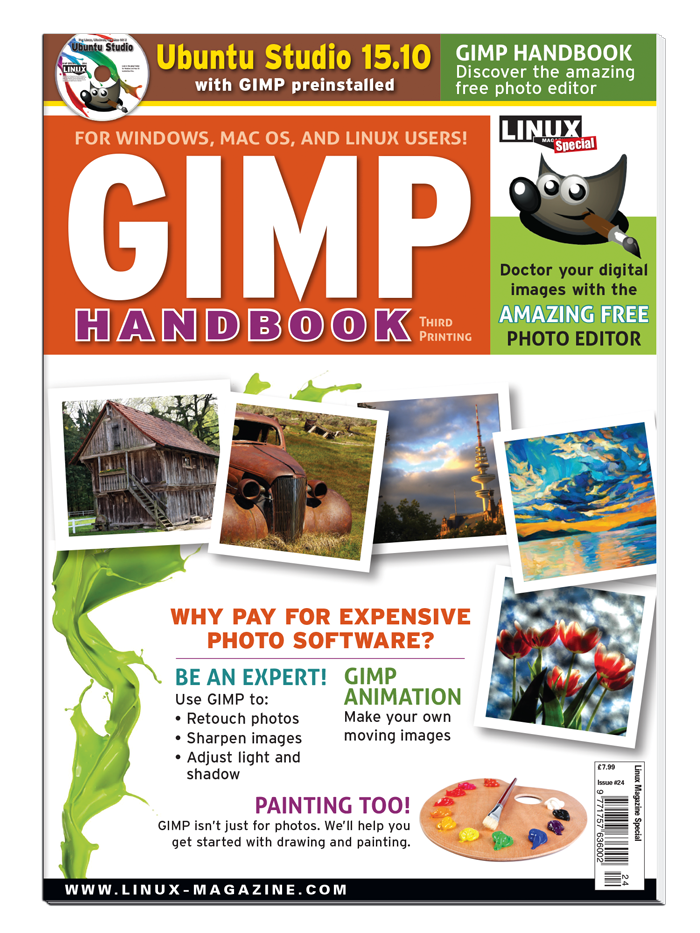 GIMP Handbook, Special Edition #28 - Digital Issue
Don't pay for expensive photo editing software. The GNU Image Manipulation Program (GIMP) is a powerful tool for editing and processing photo images.

No gimmicks or tricks – no cost. Read on for an extraordinary experience with a most extraordinary tool.
IN THIS ISSUE:
Installing GIMP
If GIMP isn't on your system already, you can download the installation files. Experienced users can even build GIMP from source code.
GIMP 2.9
New features in GIMP 2.9 and upcoming versions.
Exploring GIMP
Get familiar with GIMP's toolbox, dock, and main window.
Settings
You can modify many important aspects of GIMP configuration using special settings.
Basic Functions
Learn how to use basic GIMP functions.
Layers
Structuring images with the help of layers.
Selection
Selections make working on individual pieces of an image possible.
Colors
Functions and techniques for working with colors.
Paths
Create flexible and scalable structures with paths.
Text and Logos
Jazz up images with text and create your own logos.
Sharpening
GIMP provides good ways to solve autofocus problems.
Light and Shadow
GIMP offers a range of possibilities for correcting exposure problems.
Retouch
Using GIMP, you can iron out wrong exposures and edit image details quickly.
GIMP Maps
Creating 3D effects with maps in GIMP.
G'MIC
Using G'MIC to add even more functions to GIMP.
UFRaw
UFRaw: A RAW converter with many extras.
Painting
Create paintings using GIMP tools.
Fine Art HDR Processing
Luminance HDR offers high dynamic range imaging.
Animation with GIMP
Creating animations with GIMP.