Customers in Europe and the United Kingdom, please click here.
Attention Existing Customers:
Welcome to our new shop! Your account has not been migrated from the old system. If you wish to purchase something, you will need to create a new account or checkout as a guest. Please note that guest checkout is not available for digital products or subscriptions.
Getting Started with Linux, Special Edition #49 - Digital Issue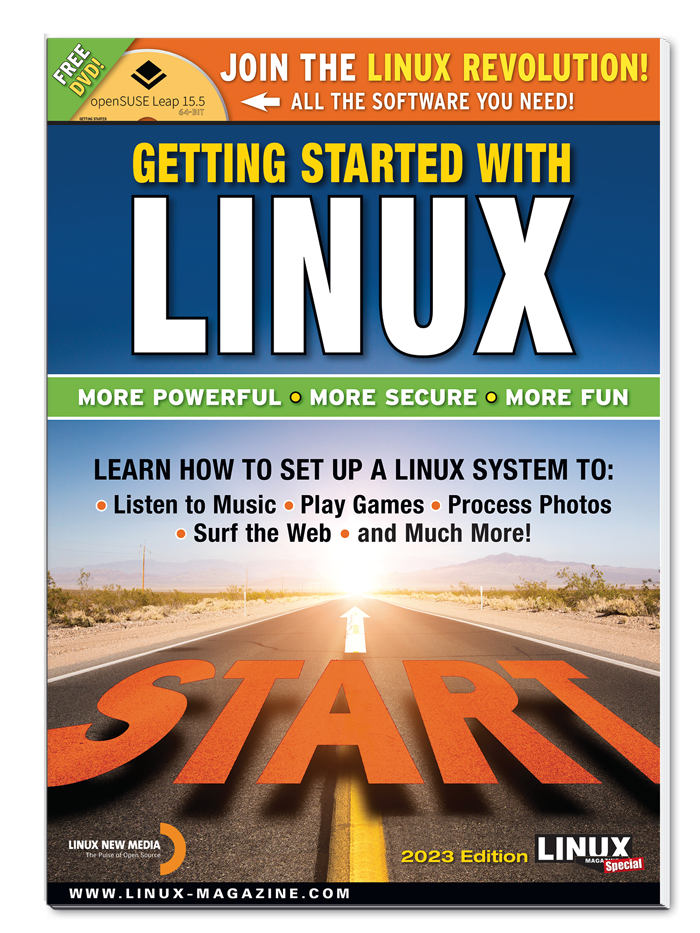 Getting Started with Linux, Special Edition #49 - Digital Issue
Welcome to Getting Started with Linux, a single-volume with all you need to install and explore the powerful Linux operating system. Read on for a special guided tour and join the Linux revolution!

DVD contents are not available with the digital edition.

Digital issues will be available once payment is confirmed.
IN THIS ISSUE:
Installing openSUSE
We show you how to install Linux using the openSUSE Leap DVD attached to this issue. Whether you keep an old operating system (and create a multi-boot machine) or wipe the old system is your choice.
Configuring Your System
Functioning as your openSUSE system's control center, YaST lets you perform several configuration tasks from a single interface.
Security
Lock down your system and tweak your security settings with openSUSE's on-board tools.
Linux Crash Course
This brief look at some important Linux concepts will help you start thinking like an experienced user.
Plasma Desktop
OpenSUSE's KDE Plasma desktop is not only pretty, it is also piled high with cool features.
Windows/macOS Files
When you migrate to Linux, you still need to work with your old files. Learn how to access internal and external media and open the files.
Multimedia Players
Watch videos, play music, and stream Internet radio stations.
Virtual Windows 11
If you need a Windows app on Linux, you don't have to boot Windows. Just run Windows in a VirtualBox window.
Bag of Tricks
From updating to the latest version of Firefox and making USB devices work to restoring your PC to an earlier state, we bring you practical advice.
End of Life
Learn why you should upgrade your Linux installation when it reaches its "End of Life."
KDE's Personal Information Managers
KDE Plasma's PIM tools help you organize your contacts, calendars, and email efficiently.
digiKam
Manage your photo collection with this useful desktop tool.
Firefox
For many users, the web browser is the most important application.
LibreOffice
LibreOffice is an open source office suite with a word processor, database, spreadsheet, presentation tool, and more.
Photo Processing with Gimp
Touch up your digital images with the Gimp image processing tool.
Games on Linux
Linux supports a variety of games and game platforms.
Fun with Docker
Docker is an important tool in the virtualization world. But there's also a fun side to it. For example, you can run old games in Docker containers.