Customers outside of the USA and Canada, please
click here
.
Attention Existing Customers:
Welcome to our new shop! Your account has not been migrated from the old system. If you wish to purchase something, you will need to create a new account or checkout as a guest. Please note that guest checkout is not available for digital products or subscriptions.
Linux Magazine #257 - Print Issue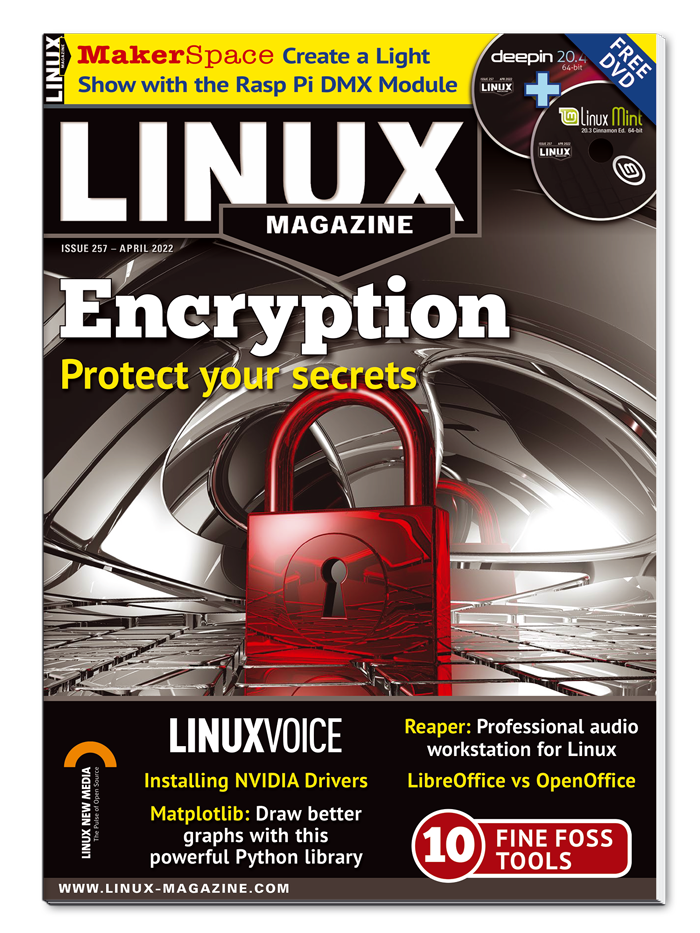 Linux Magazine #257 - Print Issue
This month, we survey the state of encryption in Linux. We look beyond the basics to explore some of the tools and technologies that underpin the system of secrecy -- and we show you what you need to know to ensure your privacy is airtight.

On the DVD: Linux Mint 20.03 Cinnamon Ed. and deepin 20.04
IN THIS ISSUE: 
​Disk Encryption
Encrypted volumes have long since ceased to be an exception or luxury. Corporate policies and compliance rules often demand encryption for critical data. This article looks at tools for disk encryption on Linux.
The State of Email
Email encryption is not that difficult – and it is more important now than ever before. We take a look at some important tools and trends in email encryption.
Cryptography and Provable Security
A concept called provable security brings the rigor of mathematics to the art of cryptography.
Distro Walk – deepin
Deepin offers a visually stunning OS with a few unique quirks.
Reaper
Linux users looking for a professional digital audio workstation can now take advantage of Reaper's large feature set.
Command Line – watch and fswatch
Two monitoring tools, watch and fswatch, let you gather system information from the command line.
Charly's Column – A FIGlet Farewell
After two decades as a sys admin columnist, Charly bids a fitting farewell with a login banner created with FIGlet.
Checkmk
We'll show you how to use the Checkmk open source monitoring tool to monitor your home router.
Programming Snapshot – Rotating Photos with Go
Cell phones often store photos upside down or sideways for efficiency reasons and record the fact in the Exif metadata. However, not all apps can handle this. Mike Schilli turns to Go to make the process foolproof.
LibreOffice vs. OpenOffice
Although LibreOffice and OpenOffice have a shared past, LibreOffice outstrips OpenOffice in contributors, code commits, and features.
DIY Boombox
A HiFiBerry HAT, the matching system, and a Raspberry Pi combine with two old speakers to create a contemporary boombox.
Rasp Pi Light Show
The DMX protocol for controlling lighting technology was created for theater and events, but you can also use it for home automation. We show you how to control DMX devices with the Revolution Pi module.
Doghouse – IoT Need For Openness
Closed IoT devices can use unexpected bandwidth "reporting home," pointing to a need for free devices to allow the user more control over their household gadgets and WiFi use.
NVIDIA Drivers in Linux
A terminal-based solution helps ease the frustration of installing NVIDIA drivers.
FOSSPicks
This month Graham looks at Blender 3.0, woob, Fokus, bat, GNU poke, Bladecoder Adventure Engine, Crispy Doom, and more!
Tutorial – Matplotlib
Build illuminating graphs into your Python programs.