Customers outside of the USA and Canada, please
click here
.
Attention Existing Customers:
Welcome to our new shop! Your account has not been migrated from the old system. If you wish to purchase something, you will need to create a new account or checkout as a guest. Please note that guest checkout is not available for digital products or subscriptions.
Linux Magazine #259 - Print Issue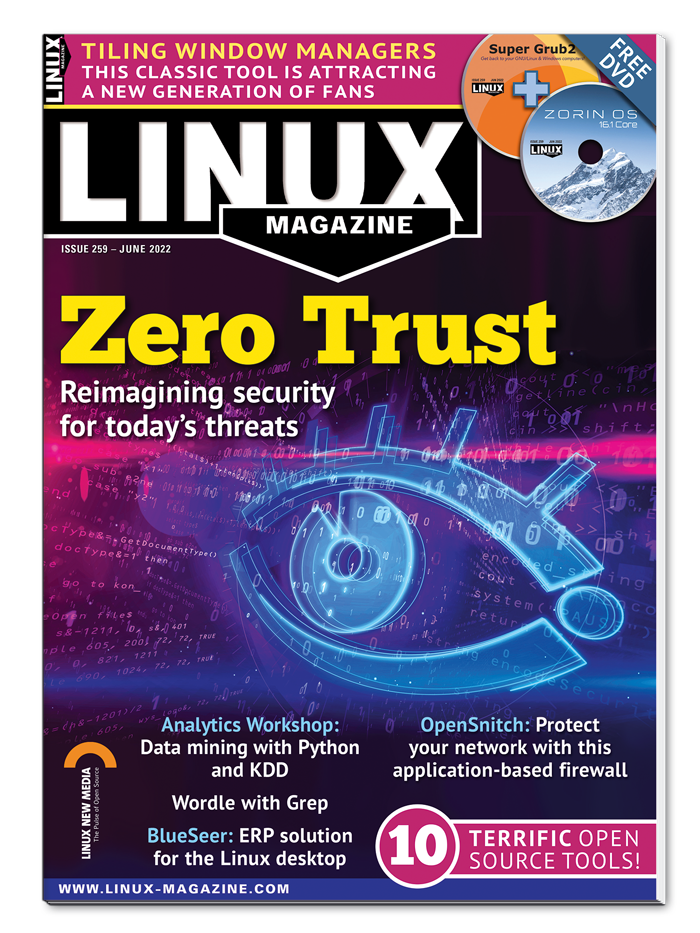 Linux Magazine #259 - Print Issue
Twenty Years ago, everyone thought a gateway firewall was all you needed to stay safe from intruders, but recent history has told a different story. Today, the best advice is: Don't trust anyone. Your internal network could be just as dangerous as the Internet.

On the DVD: Zorin OS 16.1 Core and Super GRUB2 Disk
IN THIS ISSUE: 
Zero Trust
The best strategy for network security is to trust no one.
Distro Walk – Pop!_OS
Pop!_OS, known for its innovation, customization, and user-friendliness, features one of the easiest tiling desktop options available.
Twister UI
Twister UI modernizes the Xfce desktop, making it ideal for both new users and old hardware.
Analytics with Python and KDD
The Knowledge Discovery in Data Mining (KDD) method breaks the business of data analytics into easy-to-understand steps.
Command Line – Snort
Detect intruders on your network.
Solving Wordle with Regexes
We'll show you how to solve any Wordle in just a few steps and gain practical experience using grep and regular expressions.
BlueSeer ERP
An open source ERP solution can save you thousands of dollars – in licensing fees as well as customization expenses.
OpenSnitch
Protect yourself from unwanted data leaks.
Tiling Desktops
Minimize clutter with a tiling desktop.
Assembler on Pi
Talk to your Raspberry Pi in its native assembler language.
Pluggable Pi Systems
Ecosystems with pluggable Raspberry Pi modules, sensors, and displays are a great choice if you don't want to solder but still want to extend your hardware.
Doghouse – Strategic Redundancy
Open source software and hardware are the best choice to protect against supply chain disruption.
XMonad Tiling Window Manager
Many users never look back once they get started with a tiling window manager. A close look at XMonad shows why.
FOSSPicks
This month Graham looks at Zotero 6, Conky, Czkawka, Rich, aha, Amazing-QR, horcrux, and more!
Tutorial – Vulkan darktable
The RAW converter Vulkan darktable outpaces its competitors with a modern node-graph-based architecture and massive use of the GPU.