Customers outside of the USA and Canada, please
click here
.
Attention Existing Customers:
Welcome to our new shop! Your account has not been migrated from the old system. If you wish to purchase something, you will need to create a new account or checkout as a guest. Please note that guest checkout is not available for digital products or subscriptions.
Linux Magazine #263 - Print Issue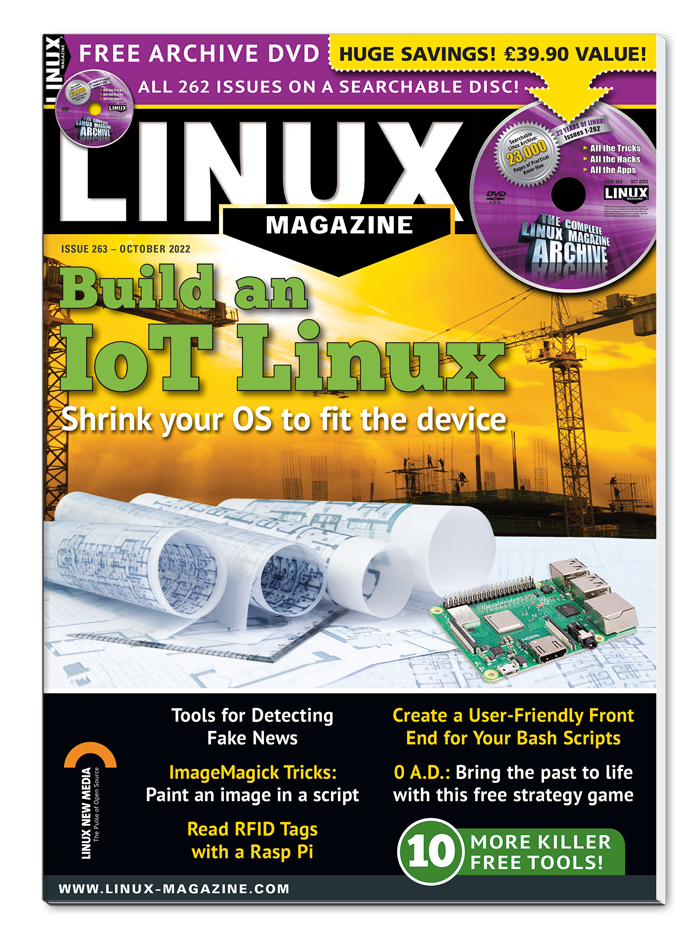 Linux Magazine #263 - Print Issue
The most amazing thing about Linux is its flexibility. Linux systems run on the biggest computers in the world – and on many of the diminutive devices that populate your home environment. If you've always wondered how developers adapt Linux to run on tiny tech, you'll appreciate this month's stories on Buildroot and the Yocto project.

On the DVD: Linux Magazine Archive DVD
IN THIS ISSUE: 
Yocto
The Yocto project gives you all the tools you'll need to build a custom Linux for an IoT device.
Buildroot
Whether you need a tiny OS for 1MB of flash memory or a complex Linux with a graphical stack, you can quickly set up a working operating system using Buildroot.
Distro Walk – Many Hats
The Red Hat family and its many derivatives.
Disinformation Detector
Fake information is experiencing a boom, but given the right tools, you can reliably separate the wheat from the chaff.
Command Line – Bash History
The versatile Bash history command can save you time and effort at the command line.
LibreOffice Macros with ScriptForge
ScriptForge helps you automate LibreOffice by building portable macros.
MkDocs
MkDocs, a static site generator, lets you easily transform Markdown files into ready-to-use, user-friendly project documentation.
OliveTin and Script Server
Create a user-friendly front end for your Bash scripts without writing a single line of HTML, CSS, or JavaScript.
Programming Snapshot – Smart Predictions with Go
Because shell command sequences tend to reoccur, smart predictions can save you time typing. We first let the shell keep notes on what gets typed, before a Go program guesses the next command and runs it for you.
Introducing Rocky Linux
Rocky Linux emerges as a free alternative to Red Hat Enterprise Linux.
RFID over SPI
Inexpensive components for the SPI interface let you upgrade a Raspberry Pi 4 to a display system for zero-contact RFID-based data acquisition.
Pigpio
The wiringPi library, which many Raspberry Pi fans have grown attached to over the years, is no longer under maintenance by its developer. An alternative called Pigpio has arrived just in time.
Doghouse – Algorithms and Books
A look at the history of computer memory and a classic algorithm text.
KOReader E-reader
KOReader offers enough features to give your humble ebook reader new powers and completely transform your reading experience.
0 A.D.
Steer the fortunes of ancient civilizations with this real-time strategy game.
FOSSPicks
This month Graham looks at Cecilia 5, chezmoi, Viddy, EmuDeck, Paperless-ngx, MegaGlest, and more!
Tutorial – ImageMagick
ImageMagick can do more than just edit existing images. You can even write a script that will create a simple drawing.