Customers in Europe and the United Kingdom, please click here.
Attention Existing Customers:
Welcome to our new shop! Your account has not been migrated from the old system. If you wish to purchase something, you will need to create a new account or checkout as a guest. Please note that guest checkout is not available for digital products or subscriptions.
Linux Magazine #265 - Print Issue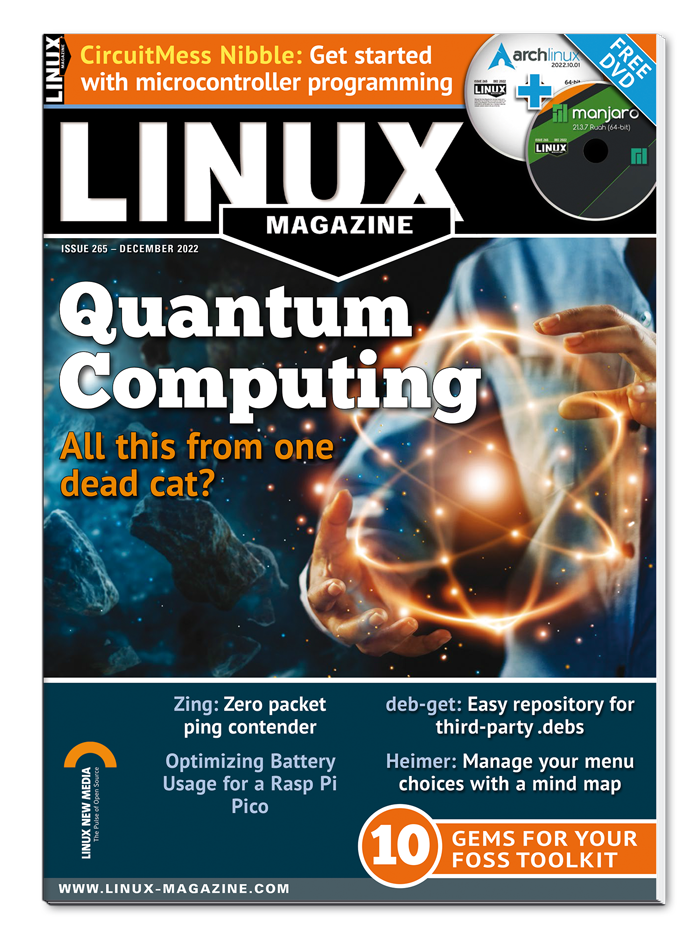 Linux Magazine #265 - Print Issue
Most Linux users know that this futuristic technology leverages the weird power of quantum mechanics. But how does it really work? What can I do with it? Are there tools available today that will help me experiment? This month we take a deep dive into quantum computing.

On the DVD: Manjaro 21.3.7-220816 and Arch Linux 2022.10.01
IN THIS ISSUE: 
​Kernel News
The Little Links That Bring Us Closer
Machine Learning
"I won't make this mistake again," you promise yourself. In other words, you'll learn from experience. Computers can do that, too. We'll introduce you to the fundamental forms of machine learning.
Quantum Computing
The peculiar world of quantum mechanics points the way to a whole new kind of computer. If you're wondering how quantum computers work, we'll give you an inside view.
Qiskit
Qiskit is an open source framework that aims to make quantum computing technology both understandable and ready for production.
Distro Walk -- Puppy Linux
Not just one operating system, Puppy Linux is a diverse collection of lightweight operating systems designed for efficiency.
Atuin
Atuin adds some handy queries to the shell history function, while letting you synchronize your command history across the network.
deb-get
Deb-get gives Debian and Ubuntu users easy access to third-party software.
Command Line -- McFly
McFly improves on the venerable history command with a customizable interface and contextualized results.
Programming Snapshot -- Go Photo Organizer
Mike conjures up a Go program to copy photos from a cell phone or SD card into a date-based file structure on a Linux box. A cache using UUIDs ensures that only new photos are transferred.
Zing
Zing is a lightweight, zero-packet network utility that provides ping functionality without the payload.
CircuitMess Nibble
The Nibble kit by CircuitMess is a freely programmable mobile game console that makes it easy to get started with microcontroller programming.
Pico Sleep Mode
The Raspberry Pi Pico's high-performance chip is trimmed for I/O and does not try to save power. However, a few tricks in battery mode can keep it running longer.
Doghouse -- Languages
The efficiency of a programming language doesn't show the full picture.
Innovative Package Managers
The traditional package management systems on Linux are outdated, but AppImage, Flatpak, and Snap see some interesting new management systems enter the fray.
JChemPaint
Visualize molecules with this cool tool for chemists.
FOSSPicks
This month Graham looks at Akira, Ladybird, Ventoy, audible-activator, Chafa, and more!
Tutorial -- Heimer
Mind maps help you organize your thoughts and ideas in a tree structure. Heimer can help you draw those trees.