Customers in Europe and the United Kingdom, please click here.
Attention Existing Customers:
Welcome to our new shop! Your account has not been migrated from the old system. If you wish to purchase something, you will need to create a new account or checkout as a guest. Please note that guest checkout is not available for digital products or subscriptions.
Linux Magazine #268 - Print Issue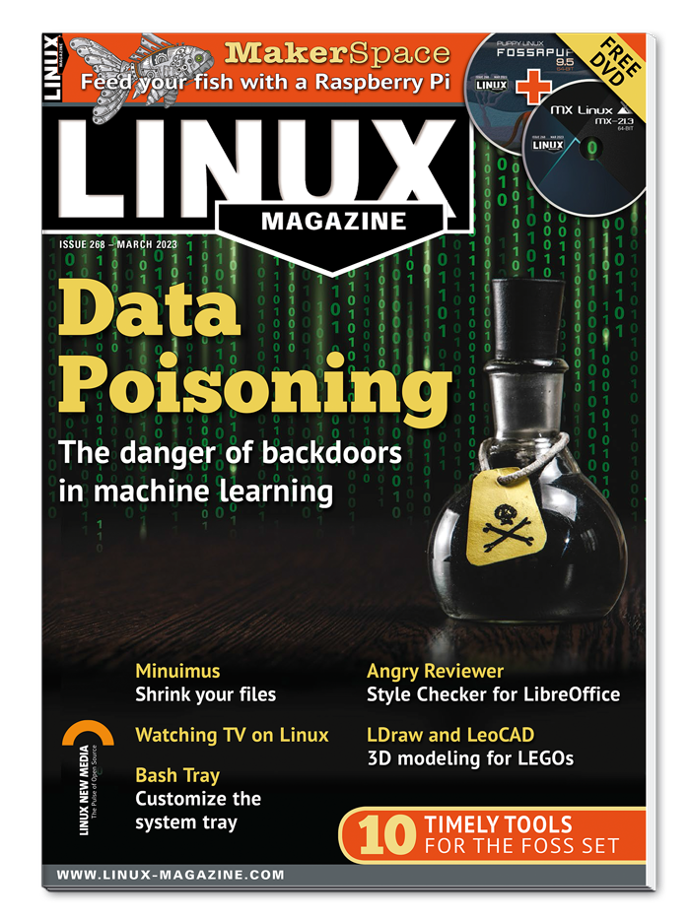 Linux Magazine #268 - Print Issue
Think computers don't make mistakes? If you slip some doctored-up training samples into the mix, you can get a fancy machine-learning system to think a dog is a cat or a 1 is an 8 – and you can trigger this bad behavior through a hidden signal no one else will notice.

On the DVD: MX Linux 21.3 and Puppy Linux FossaPup 9.5
IN THIS ISSUE: 
Data Poisoning
Machine learning can be maliciously manipulated – we'll show you how.
Distro Walk – NuTyX
Thierry Nuttens, the developer of NuTyX, shares a behind-the-scenes look at a small Linux distribution.
DWS Remote Control
DWS Remote Control offers convenient browser access to computers outside of your home network.
Firmware in Debian
The Debian project has a new direction on non-free firmware.
Bash Tray
YAD lets you customize your system tray with one-line Bash tray scripts.
Minuimus
Minuimus helps you save disk space by reducing the file size of PDF files.
apt-clone
In the right circumstances, apt-clone can be a simple option for cloning your Debian system.
Programming Snapshot – Go and R
Spotify collects data about its users and their taste in music. Mike decided to investigate.
unsnap
The unsnap script removes snaps from your computer and replaces them with flatpaks.
LibreOffice Writer Angry Reviewer
The Angry Reviewer style check can be used to evaluate and improve any type of writing, including academic articles and grant applications.
Automatic Fish Feeder
Whether at work or on vacation, every pet lover worries about how to take care of their little roommates. What every aquarium owner needs is an automatic feeder.
Solar Array
A forecast service and some Perl magic help predict the solar power yield of a residential photovoltaic array.
Doghouse – Software Freedom
Restricting uses for FOSS may seem appealing, but it also might not be the solution some imagine.
Docker
Do you work with Ubuntu but need to test something on openSUSE? You don't need a second PC or a virtual machine – a single container is quite enough.
IPTVnator
The IPTV standard lets you view your favorite channels on Linux.
FOSSPicks
This month Graham looks at LosslessCut, Webcamoid, Sniffnet, and more!
Tutorial – LDraw and LeoCAD
LDraw and LeoCAD help you become a virtual LEGO architect.