Customers in Europe and the United Kingdom, please click here.
Attention Existing Customers:
Welcome to our new shop! Your account has not been migrated from the old system. If you wish to purchase something, you will need to create a new account or checkout as a guest. Please note that guest checkout is not available for digital products or subscriptions.
Linux Magazine #275 - Print Issue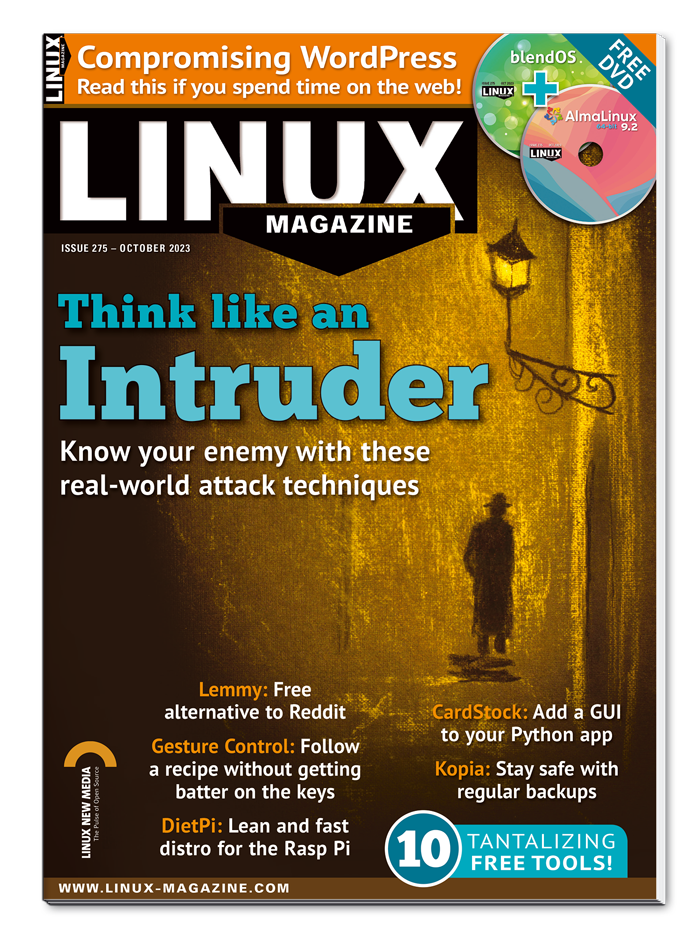 Linux Magazine #275 - Print Issue
Think like an Intruder

The worst case scenario is when the attackers know more than you do about your network. If you want to stay safe, learn the ways of the enemy.

This month we give you a glimpse into the mind of the attacker, with a close look at privilege escalation, reverse shells, and other intrusion techniques.

On the DVD: AlmaLinux 9.2 and blendOS
Kernel News
* Heap Hardening Against Hostile Spraying
* Core Contention Improvements ... or Not
Understanding Reverse Shells
Firewalls block shell access from outside the network. But what if the shell is launched from the inside?
Privilege Escalation
Even a small configuration error or oversight can create an opening for privilege escalation. These real-world escalation techniques will help you understand what to watch for.
Local File Inclusion
A local file inclusion attack uses files that are already on the target system.
How Attackers Slip Inside WordPress
WordPress is an incredibly popular tool for building websites. Don't think the attackers haven't noticed. We'll show you what to keep an eye on.
Distro Walk – Fedora
Matthew Miller, Fedora Project Leader, discusses Fedora's relationship with Red Hat and its role in the Linux community.
CardStock
CardStock provides a simple development environment for building a Python graphical application.
Command Line – adequate
The adequate command-line tool helps users pinpoint problems with installed DEB packages.
rename
The rename command is a powerful means to simultaneously rename or even move multiple files following a given pattern.
Programming Snapshot – Go Network Diagnostics
Why is the WiFi not working? Instead of always typing the same steps to diagnose the problem, Mike Schilli writes a tool in Go that puts the wireless network through its paces and helps isolate the cause.
DietPi
The DietPi minimalist distribution improves the performance of the Raspberry Pi and other single-board computers as servers and desktops and comes with more than 200 specially chosen applications and services.
Gesture-Controlled Book
Have you found yourself following instructions on a device for repairing equipment or been halfway through a recipe, up to your elbows in grime or ingredients, then needing to turn or scroll down a page?
Doghouse – Copyright
The ideas about and methods for protecting software rights have evolved as computers have moved from expensive and relatively rare to far more affordable and ubiquitous.
Command-Line Screenshot Tools
Linux is awash in desktop screenshot tools, but what if you want to take a quick screenshot from a terminal window?
Lemmy – Reddit Alternative
With Reddit closing off access to its API, it is time to look to the Fediverse for an alternative.
FOSSPicks
This month Graham looks at Gyroflow, gRainbow, Polyrhythmix, mfp, Mission Center, and more!
Tutorial – Mastering Kopia
Data deduplication, encryption, compression, incremental backups, error correction, and support for snapshots and popular cloud storage services: Kopia delivers.