Customers outside of the USA and Canada, please
click here
.
Attention Existing Customers:
Welcome to our new shop! Your account has not been migrated from the old system. If you wish to purchase something, you will need to create a new account or checkout as a guest. Please note that guest checkout is not available for digital products or subscriptions.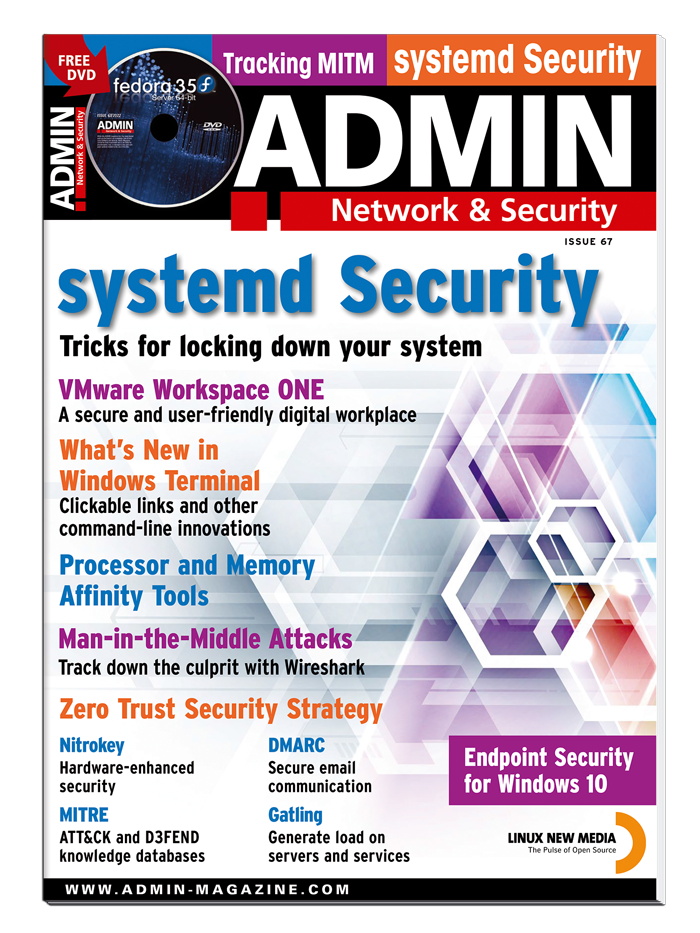 ADMIN #67 - Print Issue
In this issue, we look at how to secure systemd services and their associated components.

On the DVD: Fedora 35 Server (Install)
IN THIS ISSUE:
aystemd-homed
The Homed service sets up a portable home directory, and FIDO2 or PKCS#11 secure the stored files.
Interview: Lennart Poettering
We talk to the primary systemd maintainer about the sense and purpose of some systemd features.
Container Security
Two systemd container management functions – Nspawnd and Portabled – allow many programs to run more securely through isolation.
systemd-analyze
This systemd utility determines the security of your system, letting you track how any service can be secured step-by-step in a sandbox.
BitLocker and PowerShell
BitLocker provides current Windows versions a good, closely integrated encryption solution and lets you manage and maintain this feature with PowerShell.
Gatling
Generate load on servers and services with this load-testing tool.
ThinLinc
The revival of terminal servers during the COVID-19 crisis depended on the IT administrator to enable home office workplaces, with the help of tools like ThinLinc, a Linux remote desktop server.
Windows Terminal Preview
The command prompt at the terminal is under active development and comes with a wide range of configuration options.
Processor Affinity Tools
Get better performance from your nodes by binding processes and associating memory to specific cores.
Nutanix Community Edition
The free Community Edition of the hyperconverged infrastructure is offered alongside its commercial product for those looking to take their first steps in the environment.
VMware Workspace ONE
We look at the features, components, and architecture of this secure and user-friendly digital workplace.
DMARC
Targeted configuration and the combined abilities of SPF and DKIM safeguard and protect against spam and phishing.
Nitrokey
Hardware authentication devices raise data encryption, key management, and user authentication security to the next level.
MITM Analysis
Wireshark and a combination of tools comprehensively analyze your security architecture.
Win 10 Endpoint Security
We look at on-board protection mechanisms to delay updates and harden the operating system.
eSIMs
eSIM technology opportunities, deployment, and management for the mobile workplace.
Zero Trust
We look into the principles of zero trust concepts and why zero trust models must replace endpoint security in local networks.
MITRE ATT&CK & D3FEND
These knowledge databases provide useful techniques for securing your IT infrastructure.
Optimizing X Window Displays
Two command-line tools, xandr and xinput, let you optimize your X Window display from the terminal.
Rescuing macOS Data
macOS on-board tools and third-party applications can help prevent the loss of files and make security and backup your first priority.
Performance Dojo
Compressed memory solutions for small memory problems.