Customers outside of the USA and Canada, please
click here
.
Attention Existing Customers:
Welcome to our new shop! Your account has not been migrated from the old system. If you wish to purchase something, you will need to create a new account or checkout as a guest. Please note that guest checkout is not available for digital products or subscriptions.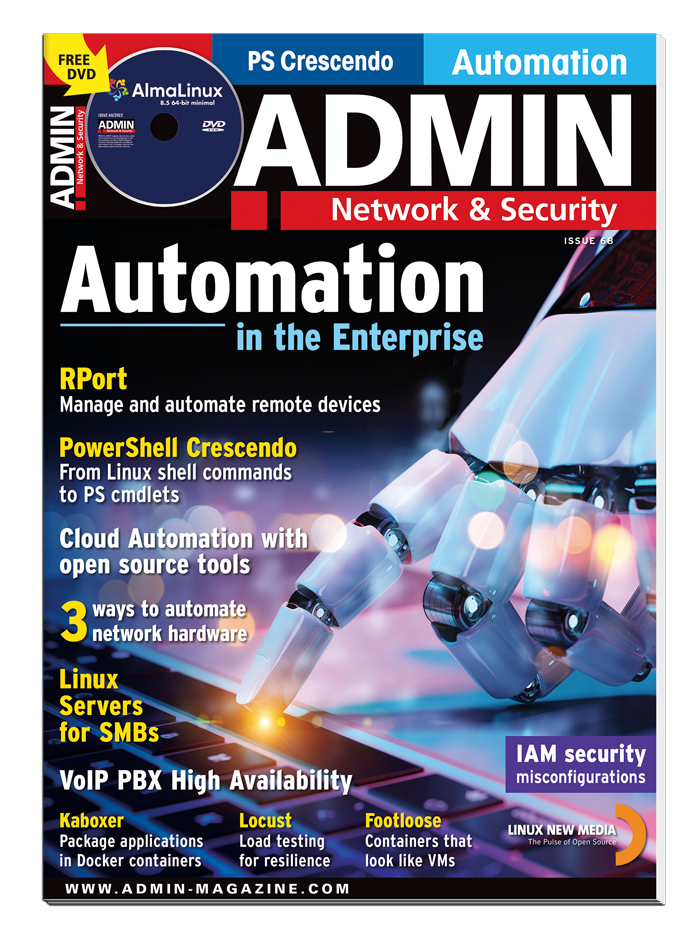 ADMIN #68 - Print Issue
Automation in the enterprise extends to remote maintenance, cloud orchestration, and network hardware.

On the DVD: AlmaLinux 8.5 64-bit minimal
IN THIS ISSUE:
RPort
Support remote maintenance and automation locally through a tunnel, in the cloud, and from your home office.
Cloud Automation Tools
Automation in the cloud does not require expensive new acquisitions when orchestration tools already in use can automate management and orchestrate cloud workloads.
Configuring Complex Environments
Get started with YAML and the YAML parser yq.
Automating Network Hardware
We show you how to automate network devices in three ways.
Flutter
Program from one source to many operating system platforms.
Linux Servers for SMBs
Specialized Linux distros for SMBs promise economical and easy management of server applications and entire IT infrastructures: ClearOS, NethServer, Zentyal, and Univention Corporate Server.
Lustre
This open source distributed, parallel filesystem scales to HPC environments.
Footloose
Keep your test-driven development and testing environments pristine with Footloose containers that look like VMs.
Federated Kubernetes
When hardware is at full capacity, KubeFed takes the pain out of adding clusters.
VoIP High Availability
Maximize telephony uptime by clustering Asterisk or FreeSWITCH PBXs together.
Kaboxer
Package applications that are otherwise missing from distribution package sources.
IAM Security Misconfigurations
Detect, correct, and avoid three IAM security holes.
Locust
This load test tool assesses the resilience of your infrastructure to help you determine whether it can withstand a flood of requests.
Blocky
Secure DNS queries and DNS filtering on corporate networks.
Cisco ISE
The Identity Services Engine offers a scalable approach to network access control for a variety of devices.
Helm
An in-depth look at the Kubernetes package manager.
What Is IOPS?
We discuss and explain what an IOPS is and how to measure it.
PowerShell Crescendo
Convert Linux shell commands into PowerShell cmdlets and modules.