Customers in Europe and the United Kingdom, please click here.
Attention Existing Customers:
Welcome to our new shop! Your account has not been migrated from the old system. If you wish to purchase something, you will need to create a new account or checkout as a guest. Please note that guest checkout is not available for digital products or subscriptions.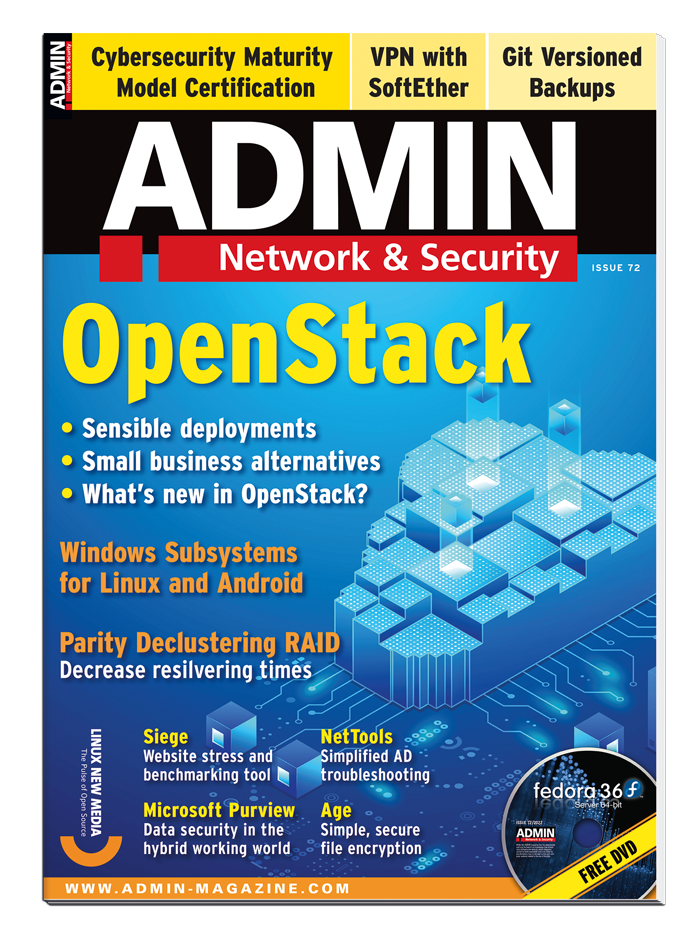 ADMIN #72 - Print Issue
Find out whether the much-evolved OpenStack is right for your private cloud.

On the DVD: Fedora 36 Server
IN THIS ISSUE:
OpenStack Interview
Developers Thierry Carrez and Jeremy Stanley talk about problems, innovations, and future plans.
OpenStack News
The unprecedented hype surrounding OpenStack 10 years ago changed to disillusionment, which has nevertheless had a positive effect: OpenStack is still evolving and is now mainly deployed where it actually makes sense to do so.
Sovereign Cloud Stack
Operators of OpenStack need to know whether their environment is working and quickly pinpoint problems. We look at the basics of observability in the Sovereign Cloud Stack.
Container Issues
As the major Linux distributors increasingly lean toward containers, many administrators have come to realize that containers are by no means a panacea for all their problems.
Git Versioned Backups
The open source Git tool from the developer world delivers backups and version control.
VPN with SoftEther
SoftEther is lean VPN software that outpaces the current king of the hill, OpenVPN, in terms of technology and performance.
Windows Subsystems
WSL runs graphical Linux applications on Windows 11, and WSA shows that Windows can be a platform for Android apps.
Siege Benchmarking Tool
A stress and benchmarking tool for websites controlled from the command line.
OpenStack Alternatives
OpenStack is considered the industry standard for building private clouds, but the solution is still far too complex and too difficult to maintain and operate for many applications. What causes OpenStack projects to fail, and what alternatives do administrators have?
Age/Rage File Encryption
Age and Rage are the Go and Rust implementations of a simple, modern, and secure file encryption tool.
WSL Vulnerabilities
Several tactics, techniques, and procedures circulating among cybercriminals exploit Windows Subsystem for Linux as a gateway. We look at how WSL can be misued and some appropriate protections.
Zeek
An arsenal of scripts for monitoring popular network protocols, along with its own policy scripting language for customization.
NetTools for AD
This set of utilities extracts information from Active Directory to help simplify troubleshooting and administration.
Samba AD Domain Controller
The open source Samba service can act as an Active Directory domain controller in a heterogeneous environment.
Midmarket IAM
Identity and access management in midmarket organizations.
CMMC
The US Cybersecurity Maturity Model Certification will be required by mid-2023 to handle controlled unclassified information and win federal contracts, but it can also help minimize business risk and keep information out of the hands of adversaries.
Declustered Parity
dRAID decreases resilvering times, restoring a pool to full redundancy in a fraction of the time over the traditional RAIDz.
Analyzing Logs in HPC
Log analysis can be used to great effect in HPC systems. We present an overview of the current log analysis technologies.
Performance Dojo
Sensor tools provide highly variable data from a variety of sources. We look at some tools to verify the temperature of components on diverse hardware.